What do you carry on your head? ANYTHING YOU WANT!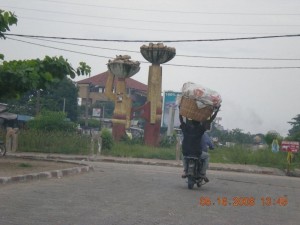 When the mangoes were in season we stopped a lady with beautiful mangoes on her head and asked to buy some. Of course, she readily agreed to sell us some and after the transaction I, Soeur Black, wanted to help put them back on her head as I have seen others do. I asked for reinforcements real fast as that big round tray of mangoes weighed at least 40 or 50 pounds! Now I know why someone needs to help put the trays back on the women's heads.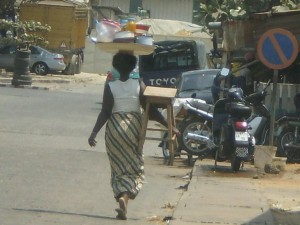 Many of them also carry a wooden stool in one hand as they walk the streets. At first I thought it was for them to sit on when they got tired but I was wrong. It is simply for the tray of goods when they stop to sell. If they don't have a stool they just set them on the ground which is even harder. The women here are tough!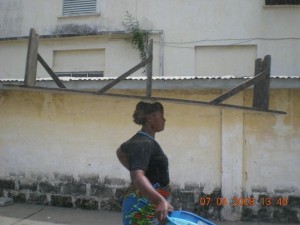 I am always amazed at what is carried on heads. The most amazing one I saw was a lady walking down the street with a long bench on her head. It was perfectly balanced and she did not miss a step. The following can give you an idea of what is carried: a complete manicure and pedicure set with about 50 different choices of polish colors,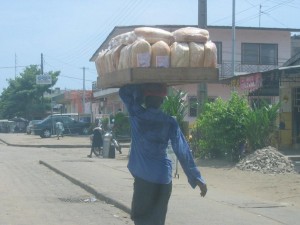 loaves of bread, dried fish, eggs, even the live chickens, all sorts of vegetables and fruits, live snails, clothes hanging from the edge of the tray, wooden display cases of pastries, cases of soda pop, snacks, soap, toothpaste, and the list could go on and on. Another one really amused me when we were going to Soeur Rosemond's house for a lesson and I saw some school kids carrying their back packs on their heads. We have seen little kids carrying small containers of water back to their homes on their heads.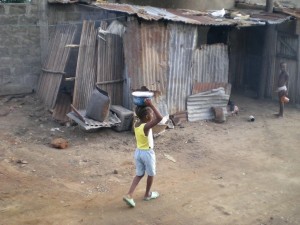 They learn at a real young age what heads are for–to carry anything you want so your hands are free. Not a bad idea really!
Last Monday was another birthday celebration for two elders here in Cotonou, Elder Lah and Elder Ahoutou.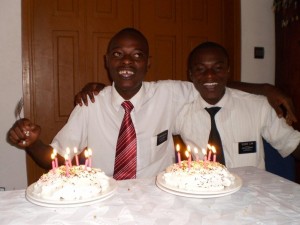 I try to give each elder a special dinner on their birthday and they really look forward to the special attention. I really enjoy giving it to them, also. They are really easy to please as this dinner was simply all the spaghetti they could possibly eat, and all they could eat was certainly a lot.
I have been thinking about events that happened miles across the ocean and continent lately.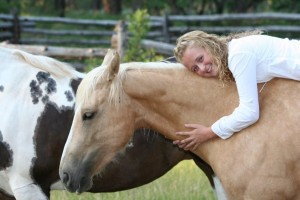 Last week our grand-daughter, Brielle, was riding horses with her dad and others and the horses were required to go up a rocky trail. Daisy, the horse, was hesitating so Brielle got off and led her up the trail. At the top Daisy's foot caught on a rock, she slipped and fell off a twenty foot cliff. The horse had a bad puncture wound in her hind flank and broke her vertebrae which controls her tail. Daisy is expected to recover but without her fly whipper.
Why did Brielle get off her horse at such a crucial time? I truly believe that the Holy Ghost whispered to her to get off the horse! The gift of the Holy Ghost is such a blessing in our lives if we live close to the Savior and follow His commandments. We need to be worthy of such blessings so we can be receptive of His influence. The Holy Ghost testifies in our souls that the Gospel of Jesus Christ is true, it helps us discern right from wrong, it comforts us when we are sad or have cause to mourn, it helps us feel a spiritual message when we hear one or even hear heavenly music. The Holy Ghost can also whisper that danger is imminent. But when we feel these small whisperings to do or not to do something, we often, dismiss them. We use our mortal sense of reasoning and say to ourselves, "Don't be silly or afraid. Go ahead and be brave and stick to your original plan." This is simply Satan trying to get us to ignore the promptings of the Holy Ghost. I am very thankful that Brielle listened to the promptings and was not in the saddle when Daisy fell.
It has rained almost every day this week and the cooler weather is wonderful. Little blessings are certainly more appreciated over here.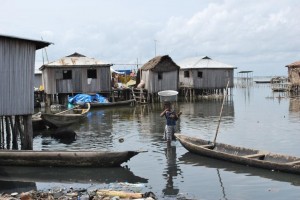 A pan full of ________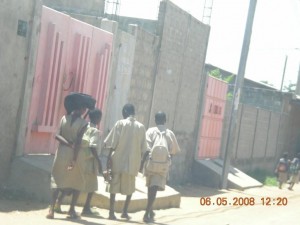 Backpacks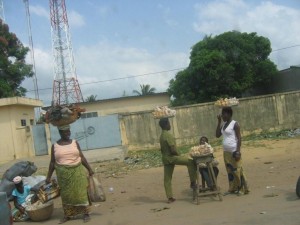 Chickens and pastries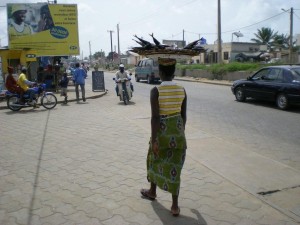 Fish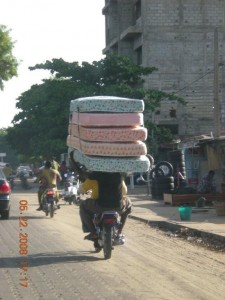 Five Mattresses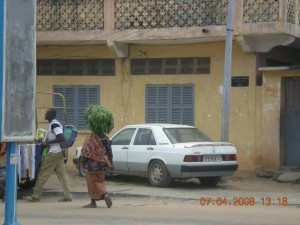 Plant Hairdoo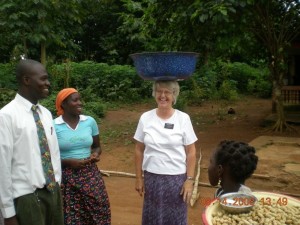 This is easy