Sunday was full of visits, emailing, church and Soeur Black's personal favorite, talking with the kids and grandkids. Monday was a busy day with taking the Elders food shopping, taking care of details at the chapel and otherwise getting ready for zone conferences and to go to Togo. On Tuesday morning we left early as we had things to do in Togo before President Ayekoue arrived on Tuesday evening. I went to the airport in the evening to pick up President and Sister Ayekoue while Sister Black stayed home to prepare something for them to eat. After a long wait, all the people on the flight had exited and still no Ayekoue's. Finally a baggage handler came out and told me that there was a problem with their luggage. A while later they appeared and explained that the luggage had made it okay but while they were waiting to claim it one of the bags had disappeared and another similar one left in its place. As luck would have it, the missing bag contained all of President Ayekoue's papers and the personal effects of little Happy. They had been filling out claim papers etc. and were the last ones to exit the terminal with a worried look on their face. As soon as we arrived home, President Ayekoue called the airport and the missing bag had already been returned. We returned quickly to the airport and peace was restored once again but we didn't get to bed until almost midnight.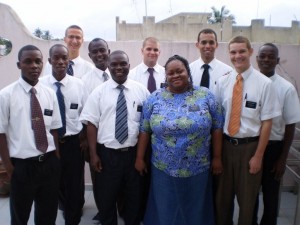 Zone Conferences are always a little stressful for us but they are wonderful for the young missionaries. There is usually about 4 hours of instruction, training, catching up on the latest information and reviewing reports. After that (or in the middle, depending on the schedule) we always eat a nice dinner prepared by Soeur Black (I think one of the few really good dinners they get – at least for the American missionaries) and then there is some time when the missionaries can mostly sit back, relax, visit and whatever as they have individual interviews with the President. Since receiving Togo as an additional assignment, we get in on two conference in two days and Soeur Black gets a little tired of all the language before the 4 hour session is over and sometimes finds an excuse to do other things which may even involve a short nap. I will have to admit that even Elder Black missed a little of the conference in Togo after helping to do the dishes. Generally, however, it is a good time. President Ayekoue is a great teacher and the conference always includes some instruction by him of various topics from the scriptures that apply to missionary work or personal development. His schedule is usually brim full as in addition to missionary training he also has training and interviews with the branch leaders. That was begun in Togo after a long day with the missionaries. It was a great meeting and the chapel was completely filled with branch leaders from Togo. Afterwards, President had interviews with the Branch Presidents so Elder Black as Chauffeur just waited around and we finally got home after 11:00. Thursday it was up early to get back to Cotonou where basically the same was repeated.
The Branch Conference of the Akpakpa Branch was scheduled for Saturday and Sunday. Unfortunately, President Ayekoue received word just before coming that the Area Presidency wanted to meet with him on Saturday so we put them back on the airplane late Friday evening. We later found out that after they disappeared into the interworking of the airport where only passengers are allowed, their plane was delayed and they did not get back to Abidjan until about 2:00 in the morning. I guess that is all part of the life of a mission President in Africa.
President Dieudonne, the 2nd counselor to President Ayekoue came over from Lome to be at the Akpakpa conference. We quite enjoyed having them stay as they are very gracious and easy to be around. Sister Philomen's health is not good and she moves around quite slowly but she was able to go to all of the conference. President Dieudonne is interesting as he joined the church in England in 1989 before the church even existed in Togo or Benin. He was instrumental in getting the two countries opened up for missionary work. He speaks English with almost native fluency and is a very good speaker in English or French. Since Akpakpa has a lot of English speakers, most of the talks were given in English and in French. That even included Soeur Black who did a credible job of both. After she had finished, everyone did refrain from applauding which is not appropriate at a church meeting but we did hear an audible BRAVO!!. All of the members cheer her efforts to speak and understand French. It keeps the members entertained and she is doing quite well with both. The little Akpakpa branch has less than 50 members and over 40 attended the conference. Since being established there in January, several members who were baptized earlier but found it difficult to attend the chapel in Gbedjromede have become active and one was put in as a counselor to President Desire at the conference. Then there is Mohamed. He is a young man who was a Muslim but who was baptized in January or February. He gave the Sunday school lesson and did as well as any lesson you ever heard. The missionaries are really busy out there and it is fun to see things happening and the branch growing. President and Sister Dieudonne left right after the conference to return to Togo and Sister Black and I had a quiet dinner and took a nap. In another 6 weeks we will have to be prepared to repeat the process.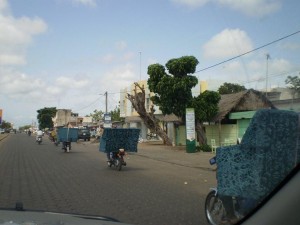 A furniture delivery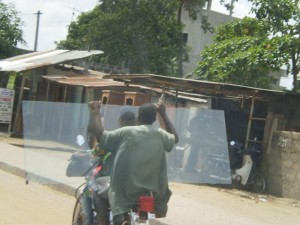 A glass delivery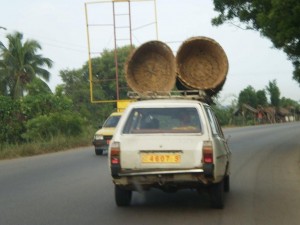 Richard Scarry would call this a car with ears