Life in Africa continues to be an adventure. Each day when we wake up we think that it will be just another day, but surprisingly enough there is something interesting around every corner. By now we should be accustomed to seeing anything and everything on heads, anything and everything on motos and anything and everything in taxis and in trucks, but we are still amazed and even amused at what we see.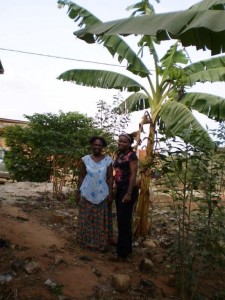 We began the week by taking Precious Dike and her kids out to Calavie to visit Soeur Julianne. We have not seen her for a few weeks as with our schedule of going to Togo and attending the three branches here we are losing contact with some of the members. We enjoy Calavie as we leave the big city atmosphere of Cotonou for the smaller, quieter and greener atmosphere there. We made a simple lunch to eat on the trip there, and the kids seemed to enjoy that.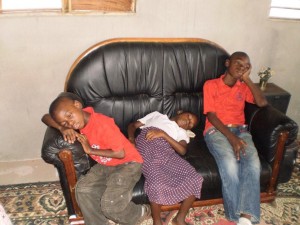 But when we were visiting it was so "exciting" that they went to sleep and even Elder Black joined in for a little snooze himself. Soeur Julianne doesn't always make it to church because of the distance but she is a very sweet person and always enjoys visits.
Monday evening we scheduled a great home evening with Pierre, his wife Rosemond and their three daughters.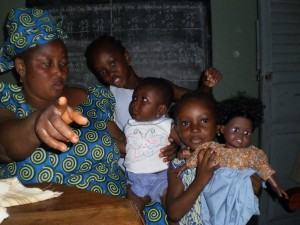 When we first do a home evening we usually do "I Am a Child of God." Pierre's wife is not a member of the church, and it is easy to teach some basic principles of the gospel in this lesson. We emphasize that we are all children of our Heavenly Father and he loves us no matter where we live or how different we look from each other just as an earthly father loves all of his children even though the children look and act different.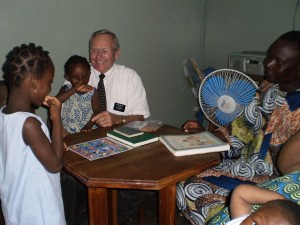 We played "Don't Eat Pete" and ate chocolate cake. A fun time was had by all. (Pierre said that the girls want us to come again tomorrow, but we are already scheduled for the Dikes as it is Precious's birthday and she has invited us to their house.)
Since we spend so much time on the road to Lome and back, we will attempt to take you on the ride with us. Surprises happen so quickly that I missed some good ones on Thursday going to Lome. We actually passed a guy holding up a dead leopard offering to sell it, of course.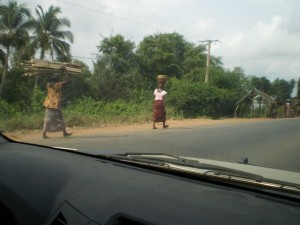 I wasn't fast enough to get the picture and also missed the big dead rats being held up to show for sale and not to mention the chicken with its head cut off. Even along the roads in the more rural areas you see people walking with everything on their heads from large bundles of fire wood to piles of bread. Vehicles are stacked to the axle-breaking stage with goods being taken to the marches, personal items in baskets, furniture, and even motos on the roof.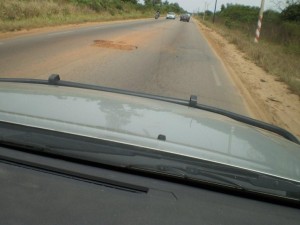 The road is pretty bad in places and it is a constant strain to try to miss the potholes. Many of the drivers here drive like maniacs, so you never know if a vehicle will be coming down the wrong side of the road towards you so he can get just a little further ahead of the guy in front of him. It is surprising how three vehicles will fit across the road if the occasion calls for it.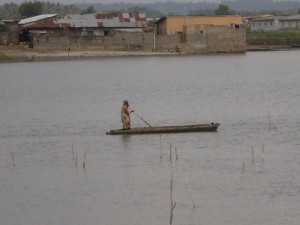 The rural area is very beautiful with many coco palms and other vegetation. There is one place that has a heart shaped tree which is always a landmark of the trip. We also pass Lake Aheme which is very beautiful and there are always fishermen in their long log canoes. There are many people selling fish along the road, but we have not stopped to buy any yet. They look a little too scary for me.
Both coming and going this trip the border was fairly easy to maneuver. As you approach the border there are lines of trucks stopped unable to go any further as they are not quite legal, we think.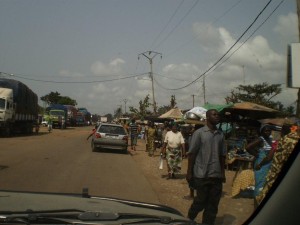 Some of the poor truck drivers have been there so long that they eat, sleep and even do their laundry there. It is hard to describe the border as there are so many people selling things, beggars begging, trucks trying to get through plus the motos, cars and people. One of the guards on the Benin side looked at my name tag and started to laugh and said, "Soeur Black, no, it should be Soeur White. You're not black." All of the guards, coming and going were friendly this trip. We are getting so many pictures and the blog is late this week so we will end there and continue our "Road to Lome" pictures next week.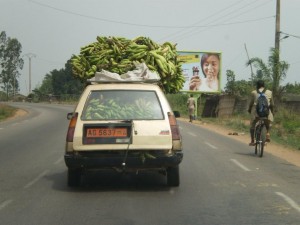 A load of Plantains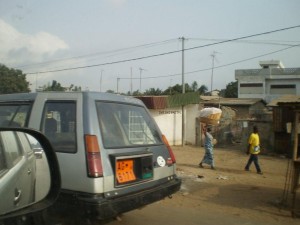 Bread on Head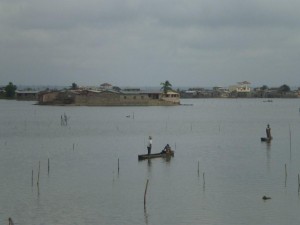 Fishermen on Lac Aheme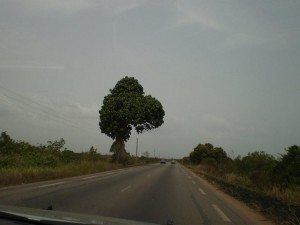 The Heart Tree