We are really keeping the road hot between Cotonou and Lome, Togo. I think if we cross the border very many more times we will be on a first name basis with the guards! I think that they do recognize the pick-up as they don't seem to have very much interest in searches.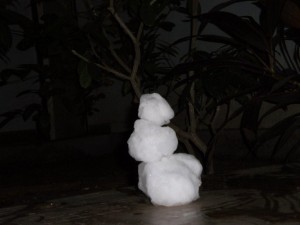 We made the trip again this week and spent Thursday through Sunday in Lome. The biggest surprise came after arriving at the home in Lome–winter is here and it snowed! We even made a snowman just to prove the point. The background for the picture is the little garden that is in the center of the house with a roof open to the outdoors. When it rains, it actually rains in the house but the little area full of tropical vegetation is beautiful.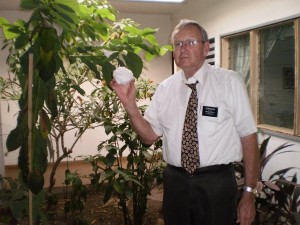 You walk past it when you go between the kitchen and the dining room. Unfortunately the snow storm was only in the freezer as we discovered it wasn't frost free and that is a problem in an area as humid as we live in.
We feel that we are losing some of the spirit of our mission by doing mostly administrative functions. Then we started to discuss some of the reasons we are here and one is simply to be an instrument in the hands of the Lord. One way to serve Him is to serve the people and some of the responsibilities given to us would be too new and over-whelming to newly baptized members. If we can help get the branches established here and functioning successfully, we must accept that with a happy heart.
Every Tuesday we teach the Gospel of Jesus Christ to Helene Briga, the wife of Charles who is a counselor in the Menontin Branch Presidency. It is such a wonderful opportunity to go into their home, visit, play with their little girls and share the gospel. Last time we began the discussion about the plan of salvation. Their friend, Jocelyn, also receiving the discussions, is a very spiritual person and is also receptive to our message. We talked about our spirit life with Heavenly Father in the pre-existence before coming to this earth, why it is important to receive a body and have agency to choose good or evil so we can live with Him after we die. Next week we will continue the discussion. This is another reason we are here-to share the plan of happiness with others.
Ecobank, the bank used by the church, is located in down town Lome. All transactions in Togo and Benin are handled in cash, and to cash a big check for operating expenses it is necessary to go to the main bank, not a branch. On Friday we made the trip but this time we decided not to park on a side street where the soldier protected me but to go closer to the bank and try to find a parking space. Big mistake! A large marche begins just past the bank and we thought that the road would continue on but soon we were engulfed by marche on all sides of the pickup. There were taxis traveling in front of us so we thought they knew what they were doing. They did but we did not! In a few places people had to move their wares so we could go through as we inched our way along.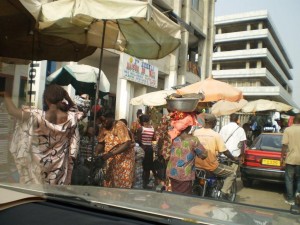 We even got a few dirty looks like the one from a girl who had big birds on her head when I took her picture. We finally escaped and parked and once inside another process began. You can't go to teller's window and withdraw your money. First, you go into a back room and are cleared by a high ranking employee and then ushered into the inner sanctum. It is air conditioned with nice soft chairs and the wait begins. You wait , wait and then wait some more until finally you are called to a window and handed a big wad of bills. You are ushered out the back door by a guard. We even made it back to the pick-up without getting mugged! I was carrying the equivalent of about $4,000 in cash in my purse. That is probably more money than many Togolese will see in their entire lifetime. The whole process took about two hours so you need to be very patient or you will end up having a coronary.
Sunday is the time to cross the border as there were not many trucks and the guards were more interested in a championship soccer game between Ghana and Cameroon than anything else. At this rate our passports will be full of stamps before we get home.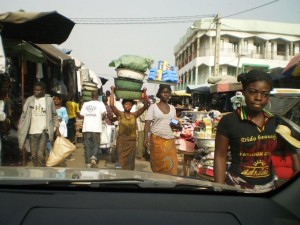 Do you think we can make it through?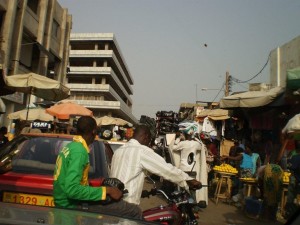 Maybe we can make it through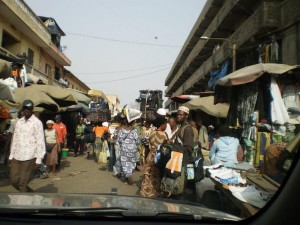 Still trying to get through